Trekking in the Haraz mountains
Yemen is one of the last countries in the Arabic world untouched by western influences. The landscapes, the people and their culture is without doubt a discovery for anyone visiting Yemen. This site hosts no-nonsense and to the point information for the serious adventurer to make a guided trek through the Haraz mountains.

The Haraz mountain area is literally undiscovered. Reliable trekking maps of the Haraz mountains are non existent. There are many trails connecting small mountain villages. Loosing your way on the sometimes difficult trails are a part of reality of trekking in this region.

A Map of Yemen can be found here.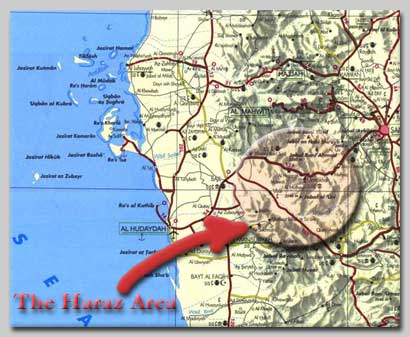 Manakah or Al-Hajjara is a good starting point to discover the Haraz mountains. This town is can be reached by a good road from Sana'a in 90 minutes.

Experience with trekking and independent traveling in Asian countries is recommended. You make your own tour, there is no such thing as a 'feet on the table' tour package to be found on this site. You're part of tour planning all the way.
Yemen Trekking can help you find your guide to help you make a trek through the Haraz mountains.
For more information about the details of booking a trek with Yemen Trekking please continue to 'booking".
Although this page is not intended to describe all the ins and outs of Yemen, the links page provides a few pointers to sites hosting facts about Yemen.